INITIAL CONCEPT
The project's first iteration was an interactive storybook on the official D&D website, where the user could play through a standard tavern scenario that would occur in a real D&D game. The concept also centered around encouraging new players to be Dungeon Masters. We had made an assumption that new groups of friends who were interested in playing may have difficulties finding a Dungeon Master, and that there was a lack of onboarding for new players to become Dungeon Masters. I was responsible for information hierarchy, flow, and part of the UI.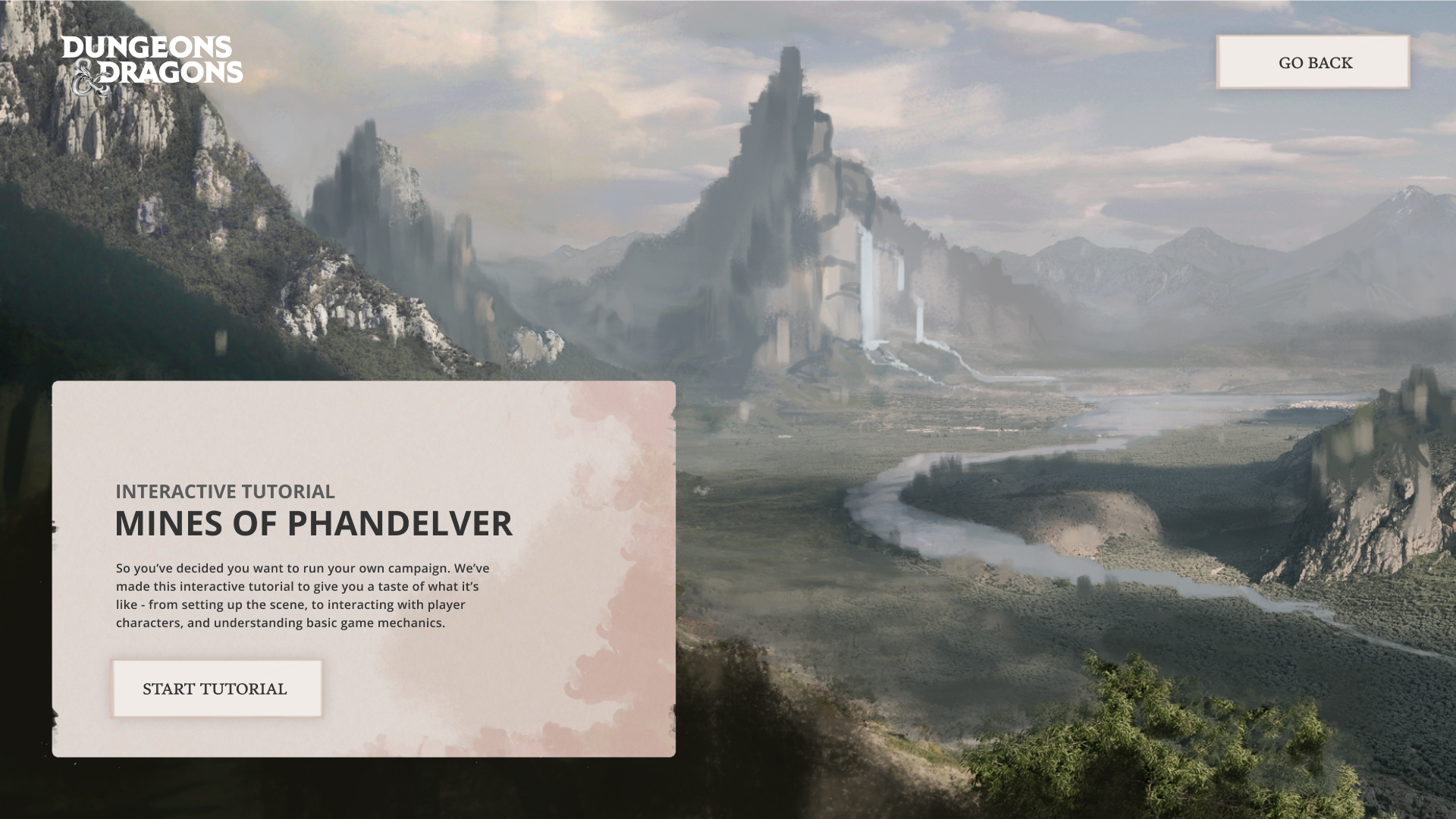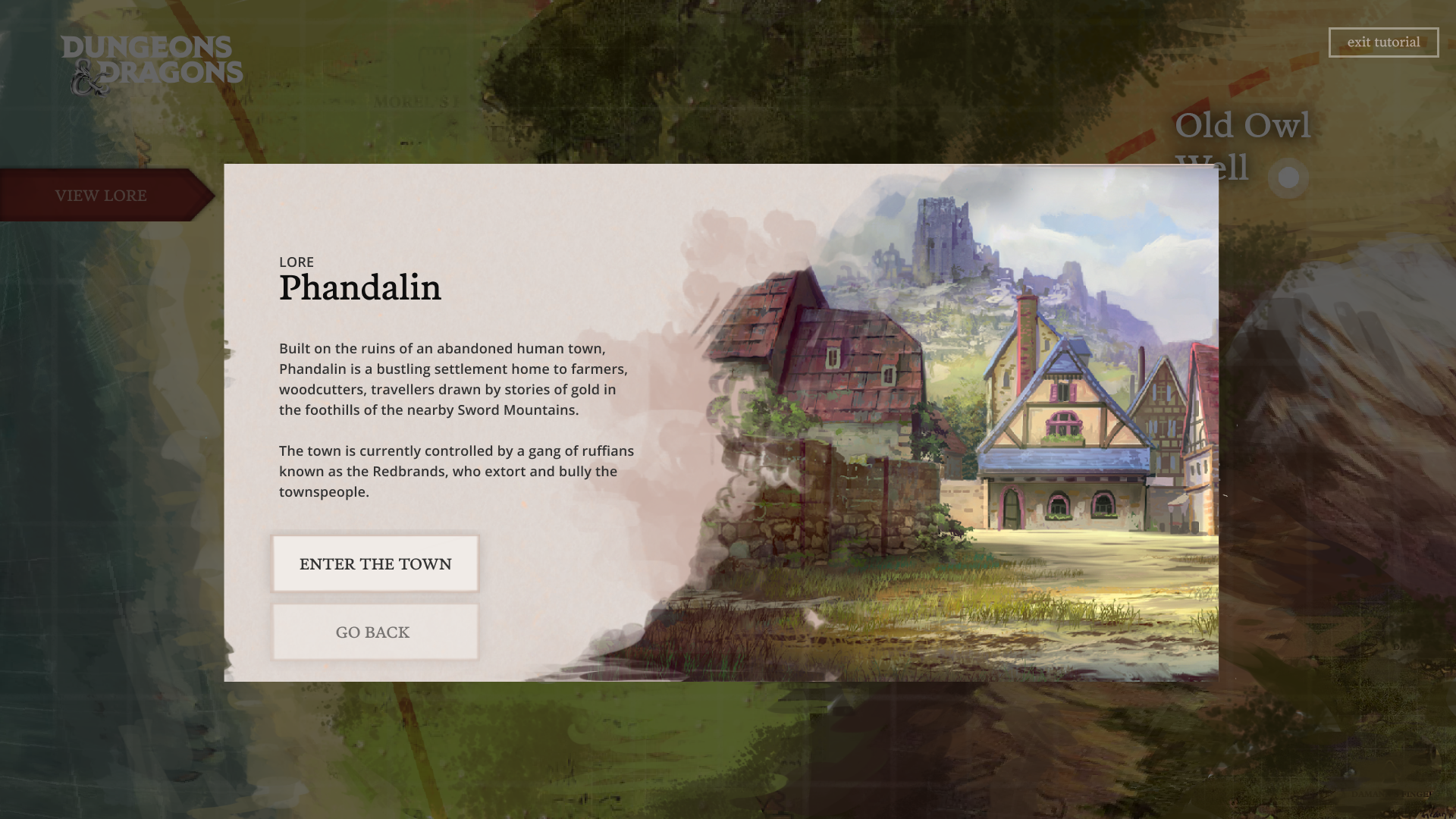 REFRAMING
However, once we conducted our more in-depth user survey of 310 participants, we discovered that there was a larger underlying issue of D&D resources being complicated and difficult for any new potential player to learn from. Simply learning the basics of the game was intimidating - let alone becoming a Dungeon Master! We decided to reorient our user to any newcomer to D&D, and change our focus to tackling the high barrier to entry resulting from a lack of effective onboarding for any new player, rather than just Dungeon Masters.
DESIGN SPRINT ACTIVITIES
Empathy mapping in our design sprints helped us dive deeper into our user's head to find out what emotions and thoughts they were having when learning and playing D&D, as well as imagine how we could design to address these emotions and needs. Needs statements also helped us identify what kinds of needs and aspirations our user would have, so that we could design our solution with their aspirational goals in mind, rather than only addressing pains.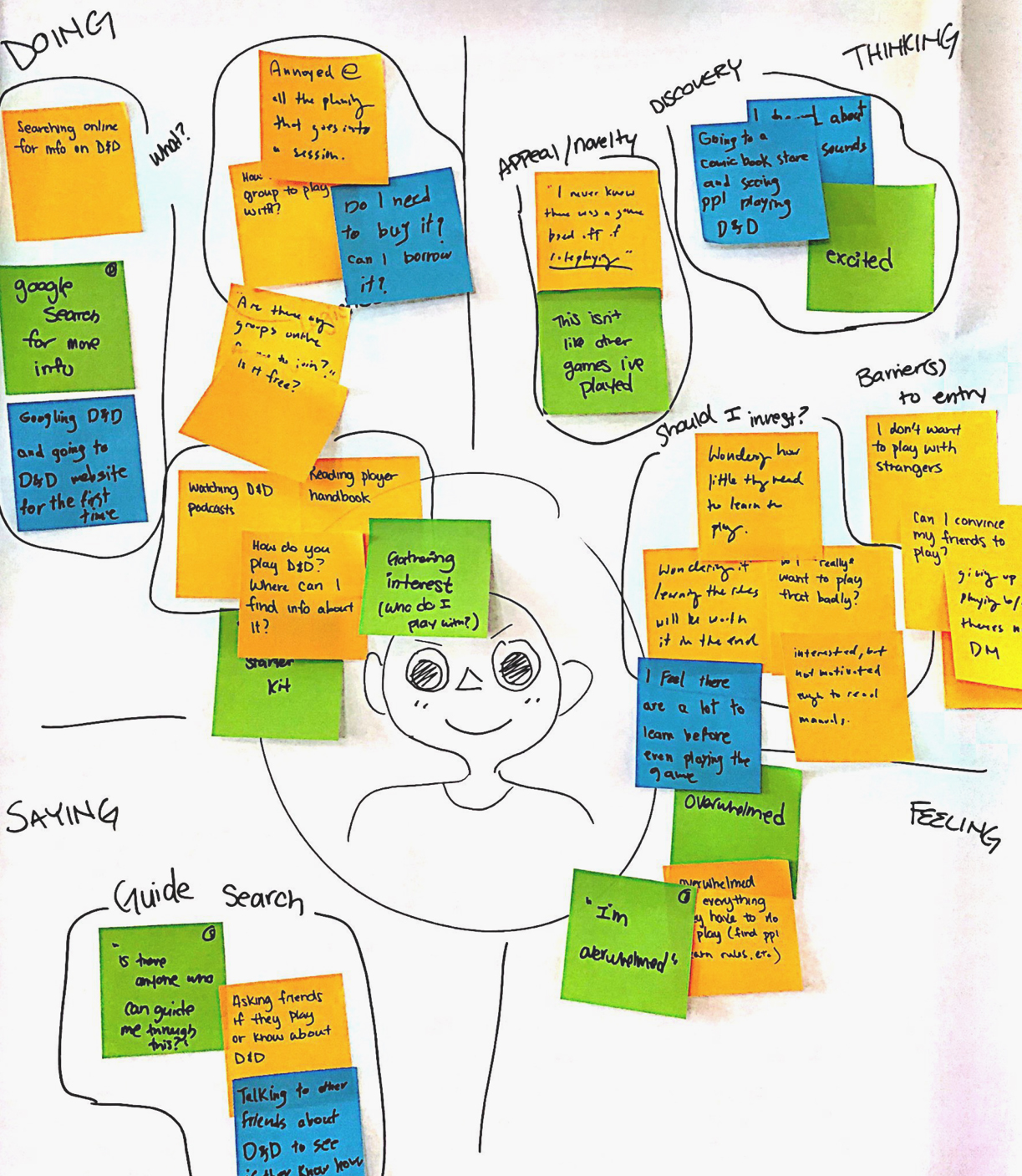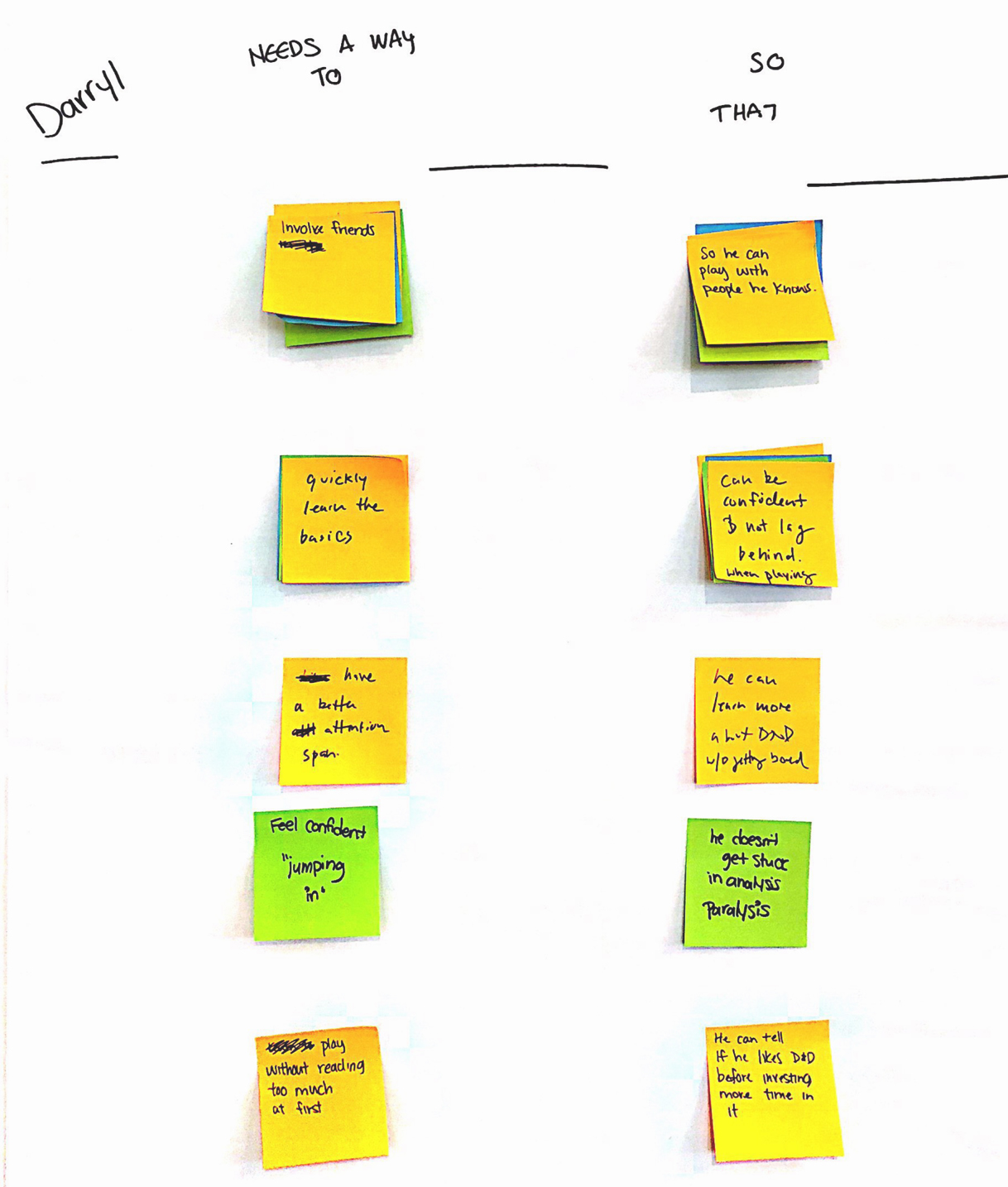 MODIFIED CONCEPT
Our new reframe of the original business opportunity, target user, and design sprint activities led my team and I to realize that the interactive storybook was linear, and not flexible enough for a newcomer to D&D to learn different aspects of the game at their own pace. However, the prototype had previously tested well, with the results shown below.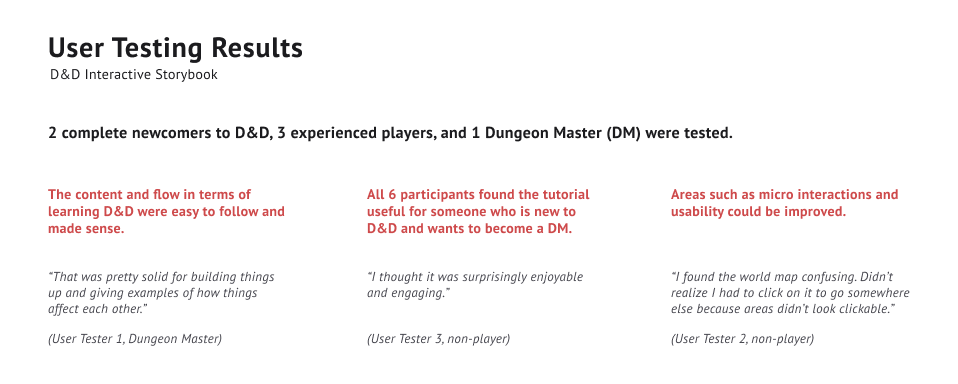 Since the previous concept was successful in how it built-up and revealed information to the user, as well as all users finding it engaging and immersive, we decided to build upon the concept to fit our new user's needs and goals. We retooled our design solution to a mobile application extension focused on lesson modules instead, where our narrative-based tavern scenario would live inside of a lesson module. As 53% of survey respondents learned D&D gameplay through an experienced friend, we chose to create a digital onboarding process that uses elements from learning through a friend, as well as an immersive learning experience that gives provides a "peek" into a D&D game.
REVISITING THE PROJECT
During the final presentation of our project, we received positive feedback regarding our change from an interactive storybook to a mobile learning app, as well as our two branching pathways for learning. However, there was a large amount of feedback surrounding the user interface of the app, with most comments being that the brand of Dungeons & Dragons did not come across in our design. Several screens from my team's version of the app are shown below.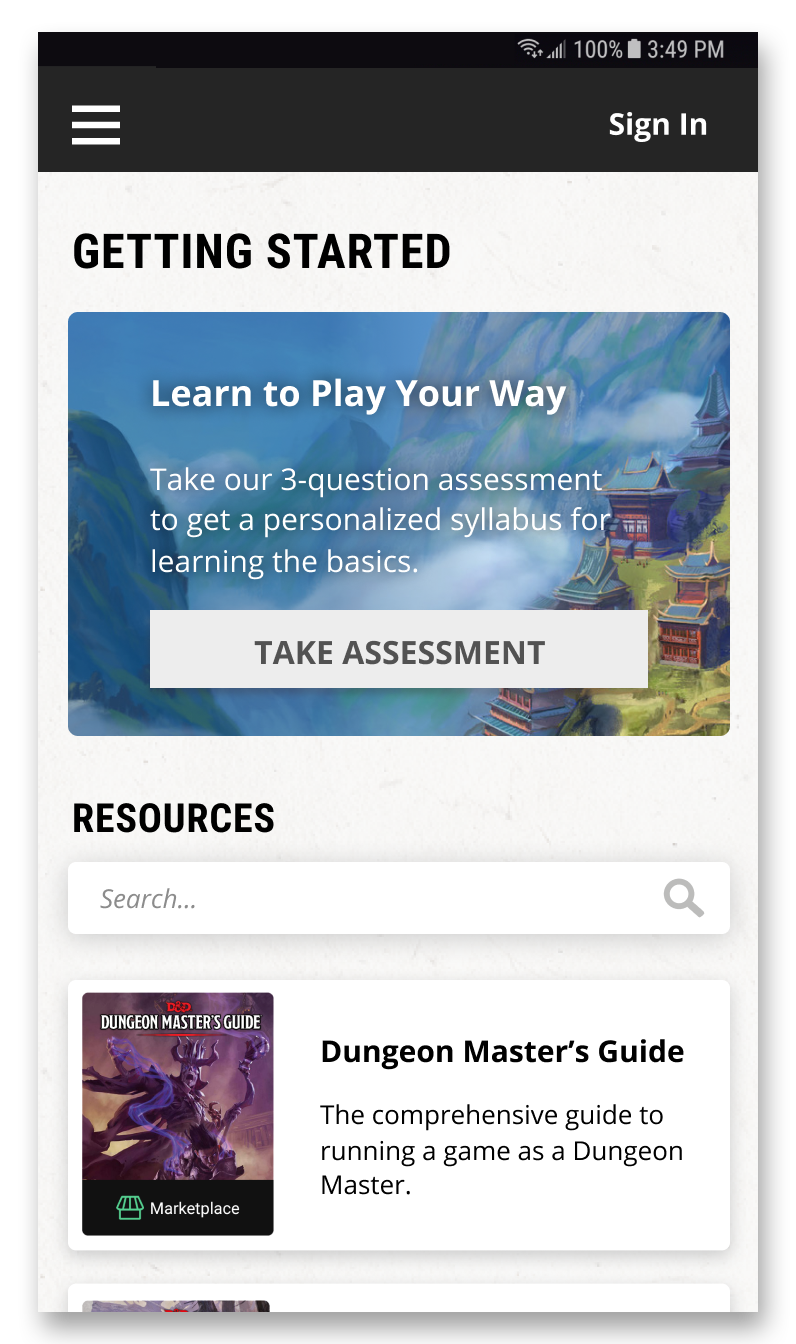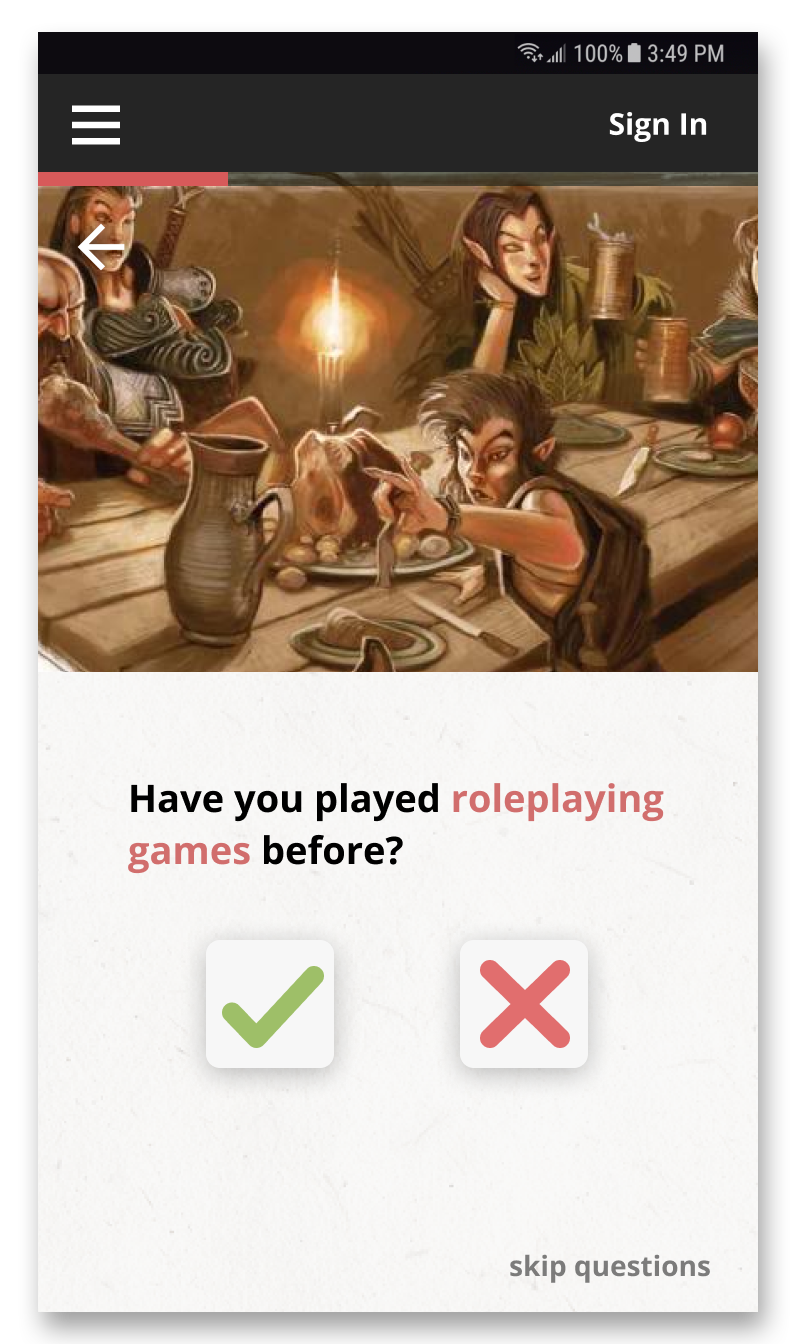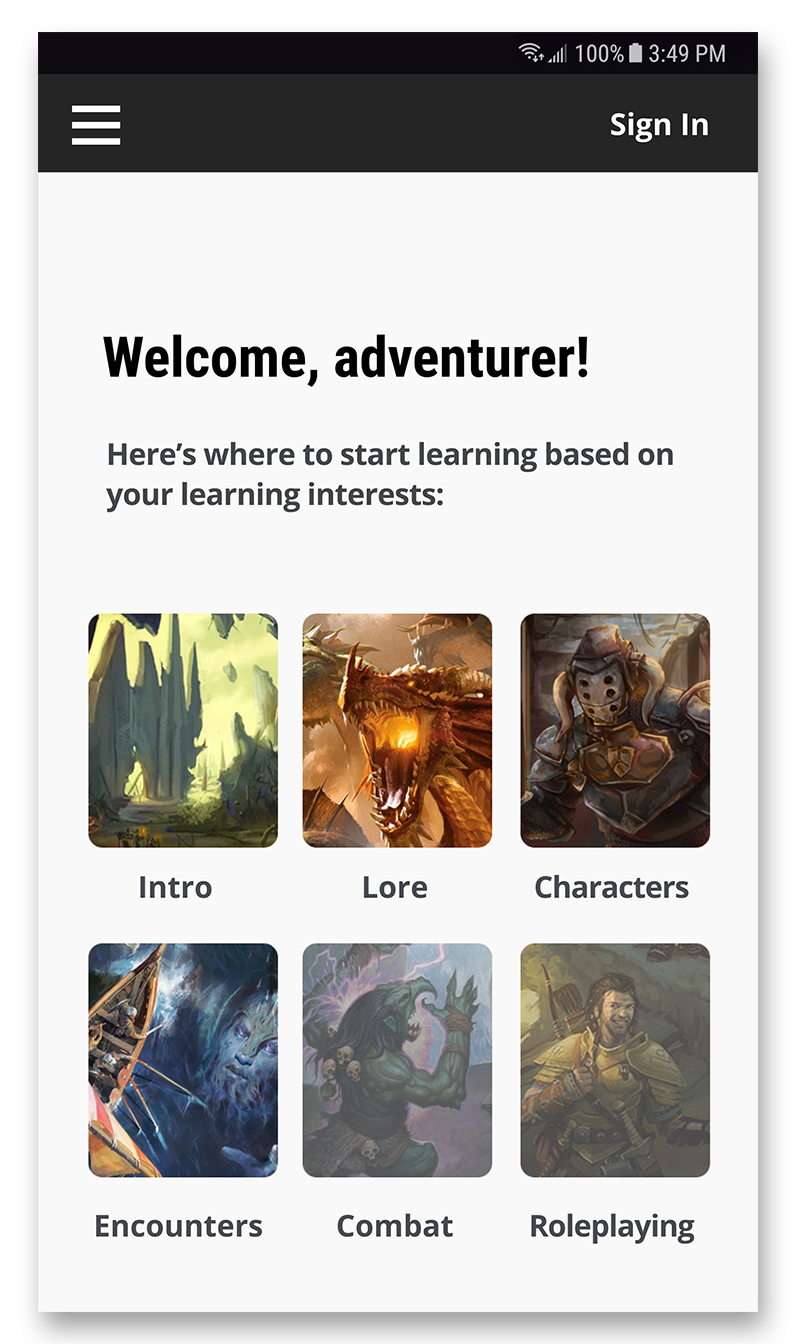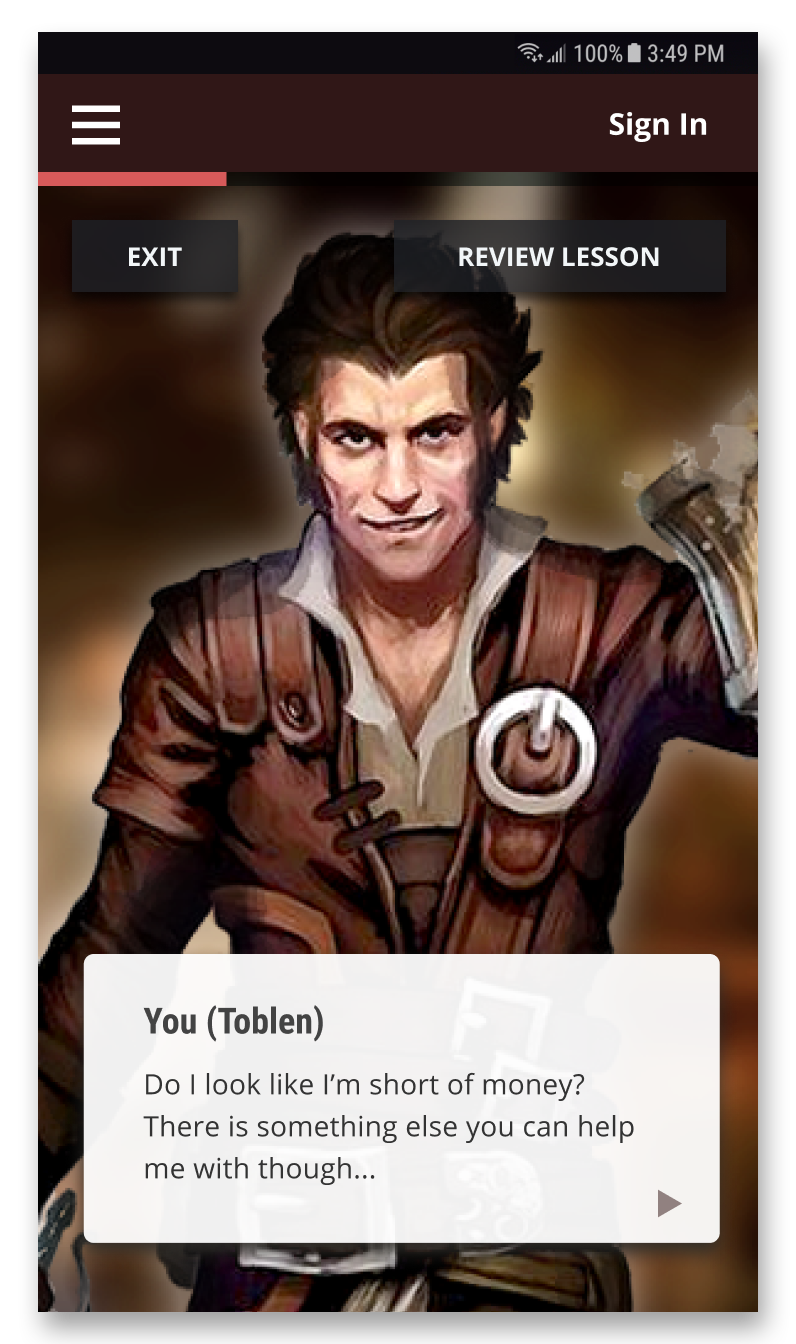 When I revisted the project, I focused on redesigning the user interface to better capture the brand - and spirit - of D&D. D&D is an epic, fantasy, adventure game filled with raging battles and ventures into mysterious places, and these elements are already present in D&D's official artwork. I chose to use and put focus on these images by giving them more screen estate, and changed the background to a dark grey to convey a feeling of "venturing into the unknown". As D&D is associated with red, magic, and dragons, I used a shade of red similar to D&D's logo, along with a red dragon as the main image for Learn to Play, in order to emphasize D&D's brand throughout the app.
I also re-wrote several areas of copy to be more familiar and appealing to a D&D player by using common roleplaying game language. Many smaller changes have been made to enhance the user experience, such as adding an audio narration to the text-based learning path, as the app is intended to be used on-the-go and there may be difficulties in reading during transit.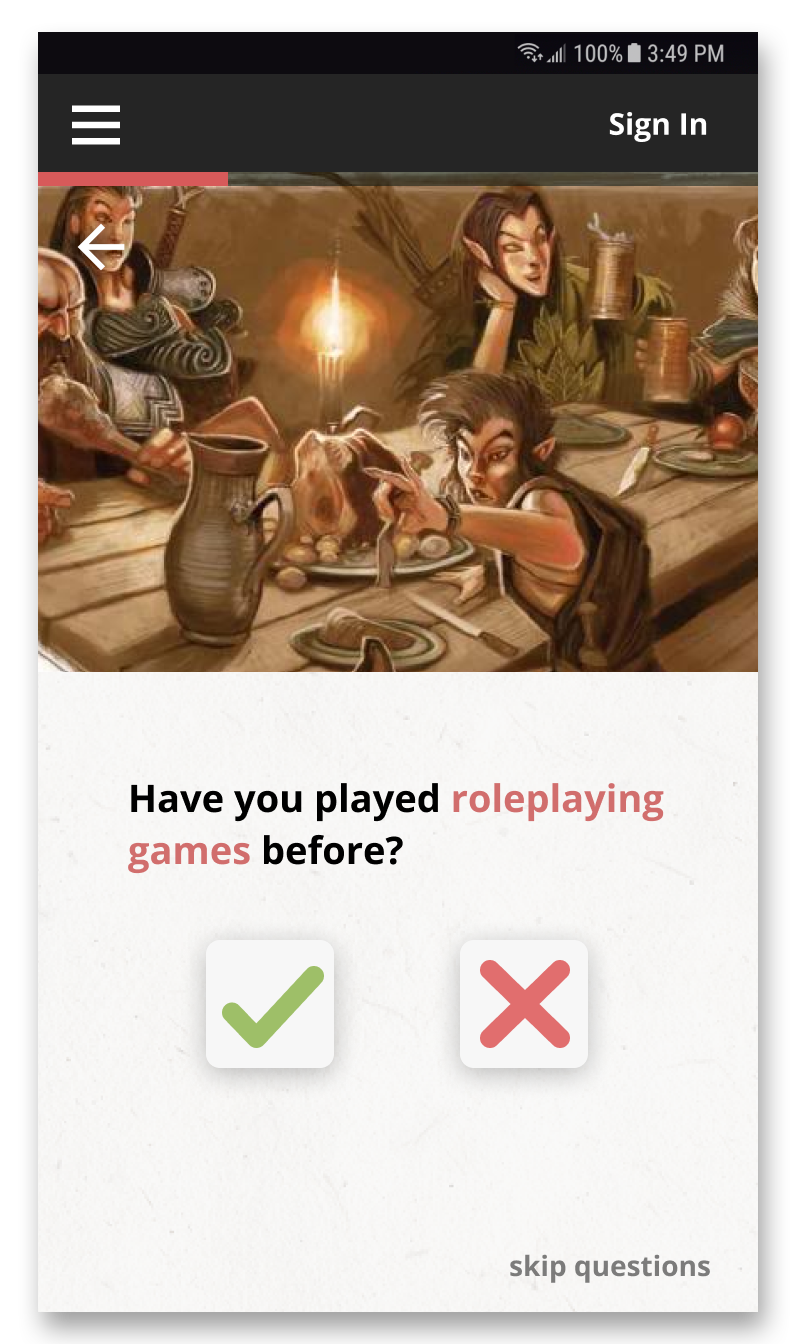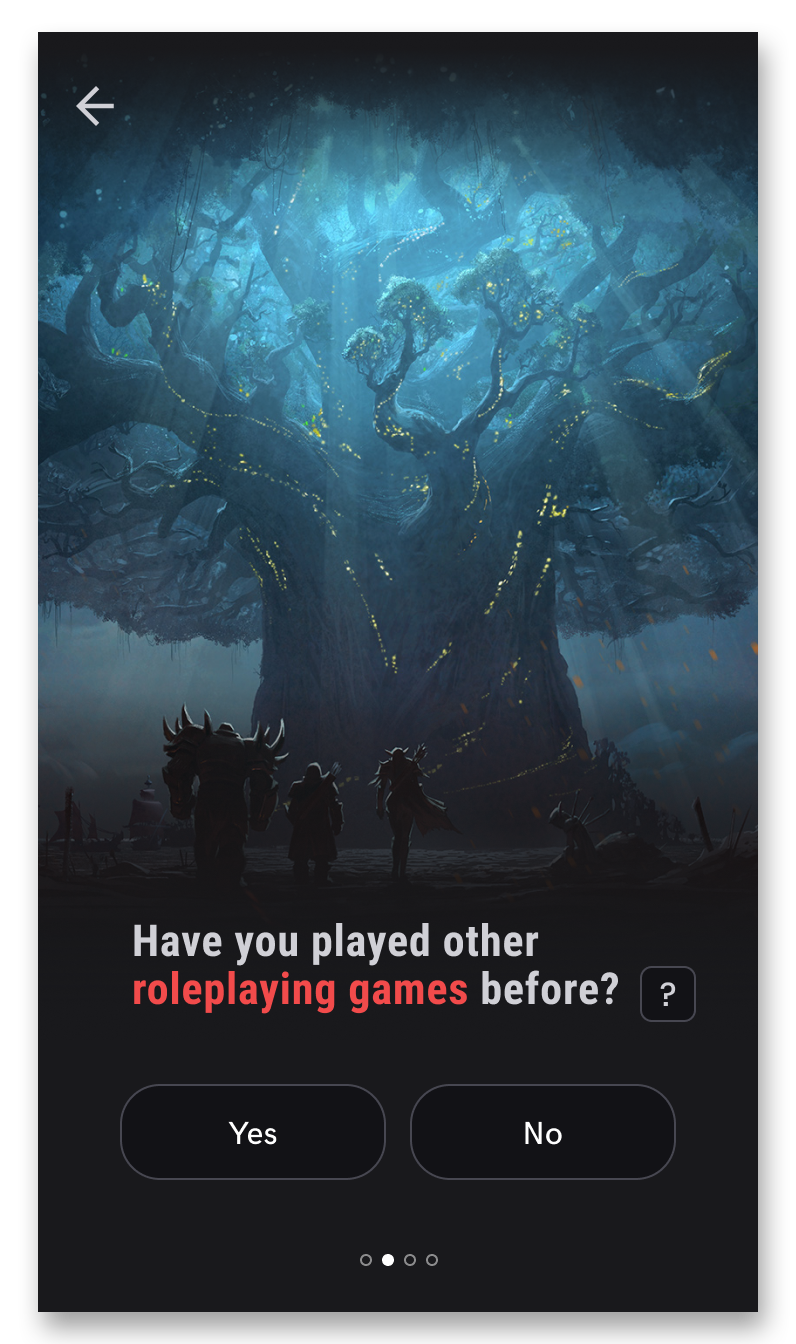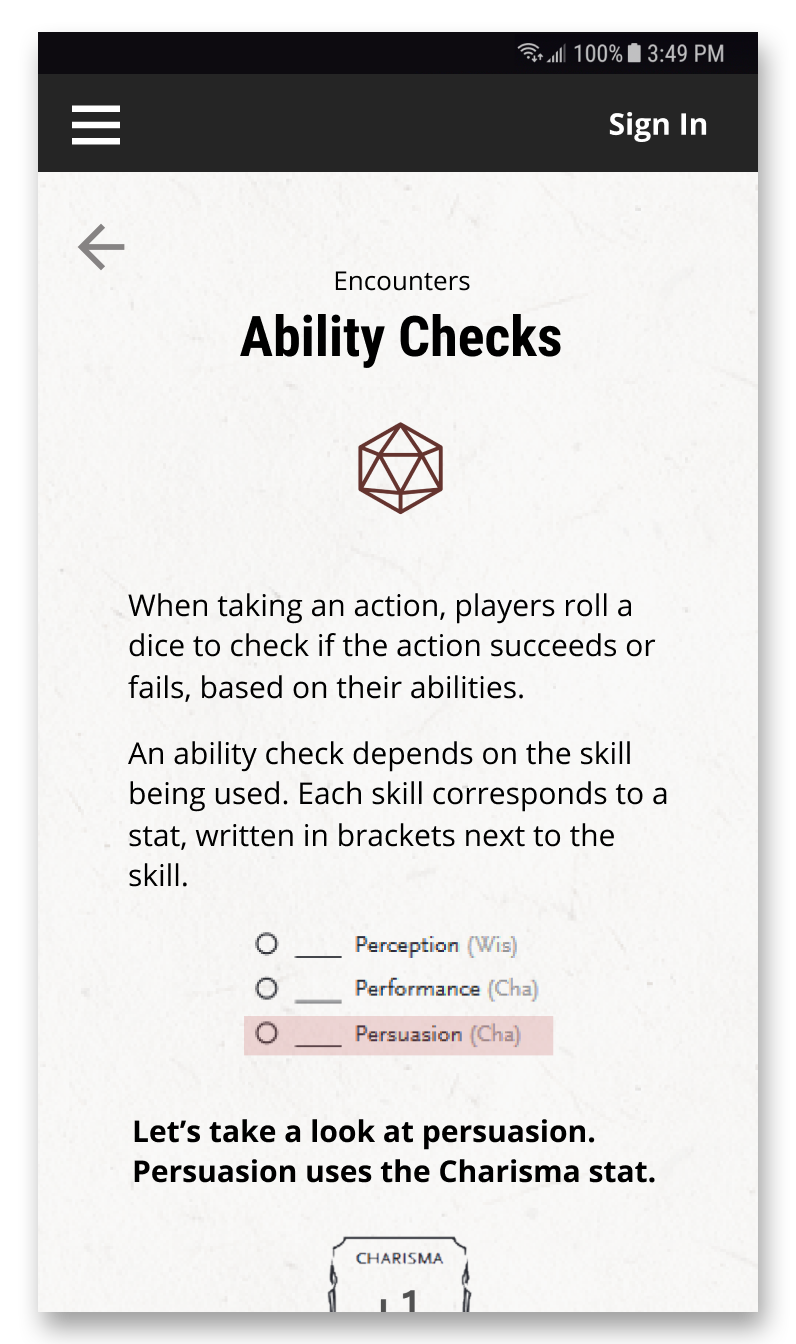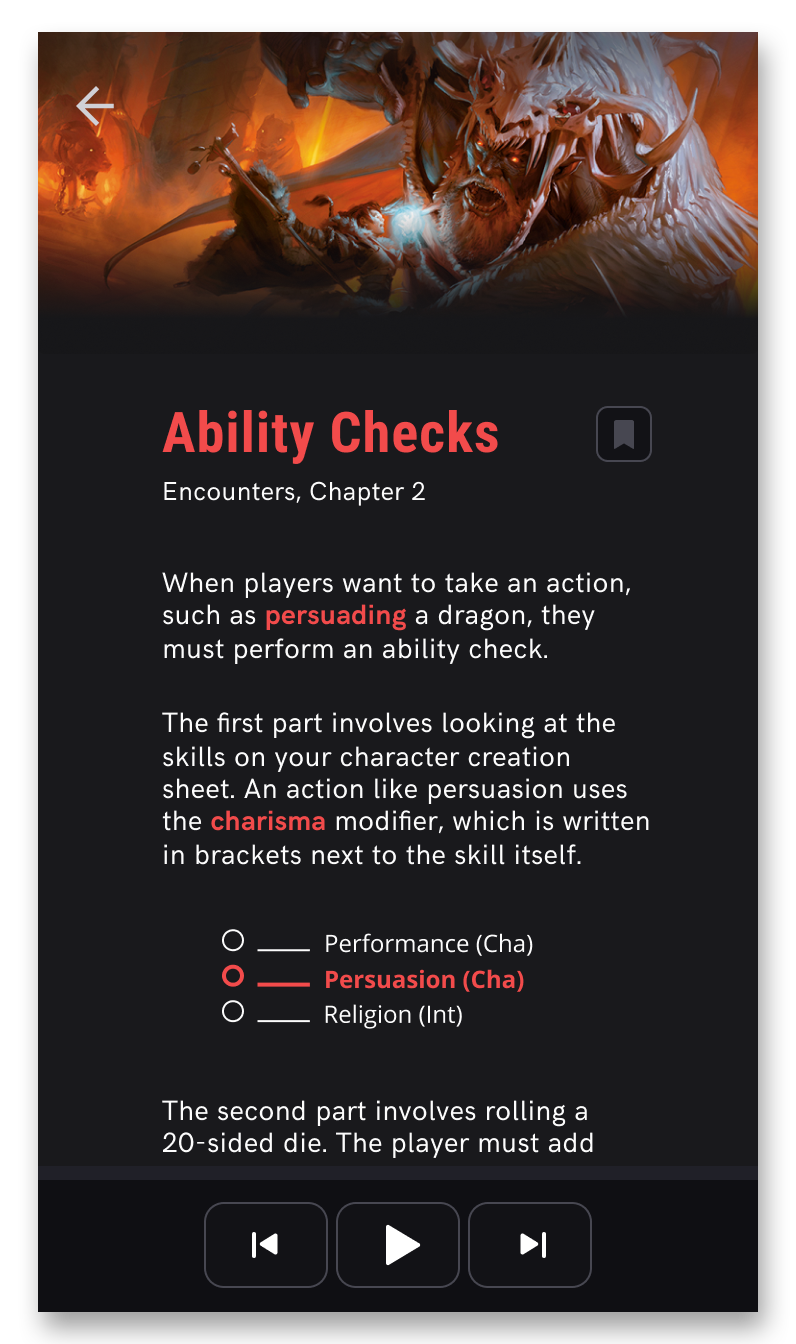 WIREFRAMES & ITERATIONS
I began my redesign by creating low-fidelity sketch and digital wireframes to block out information hierarchy, flow, and layout.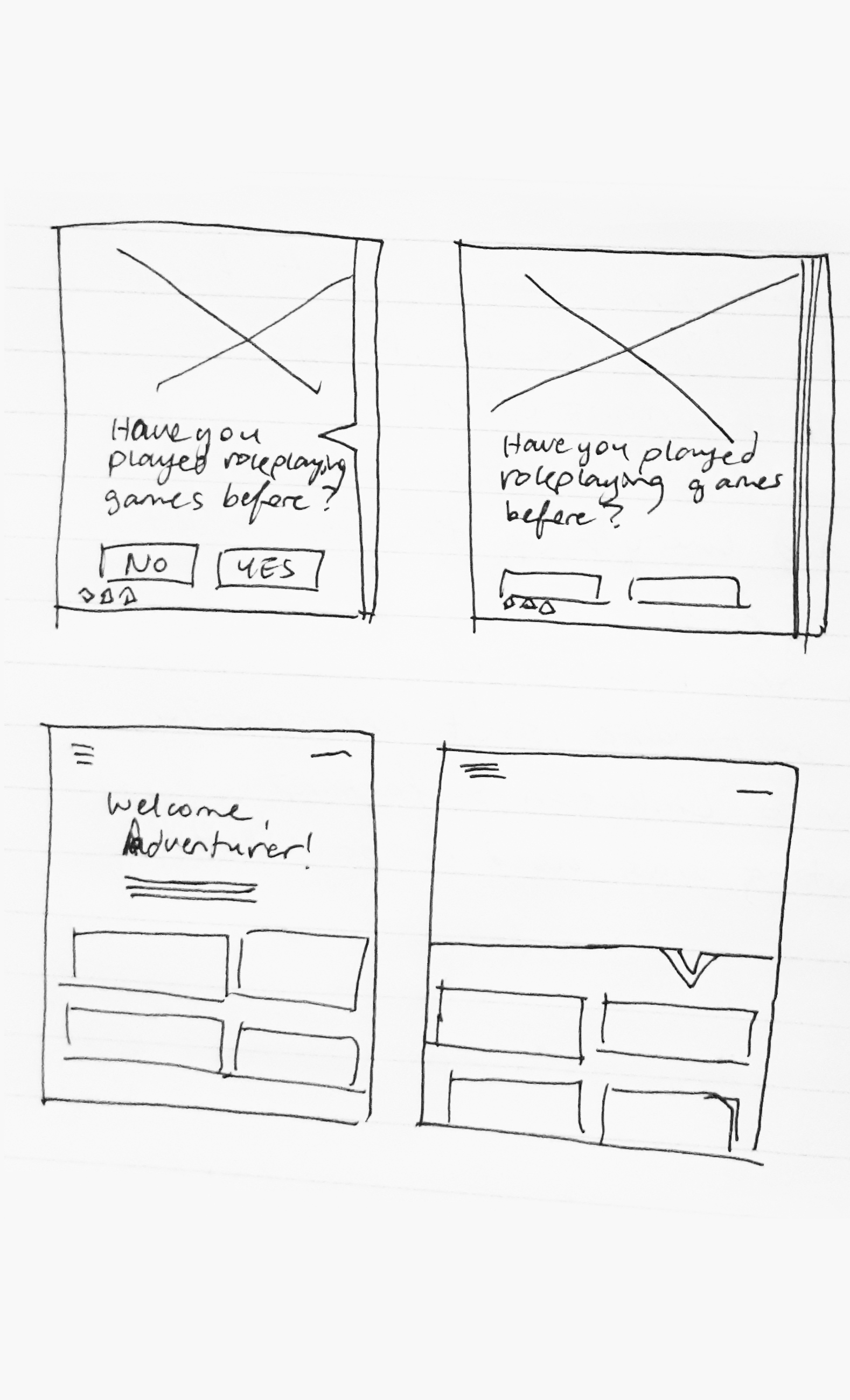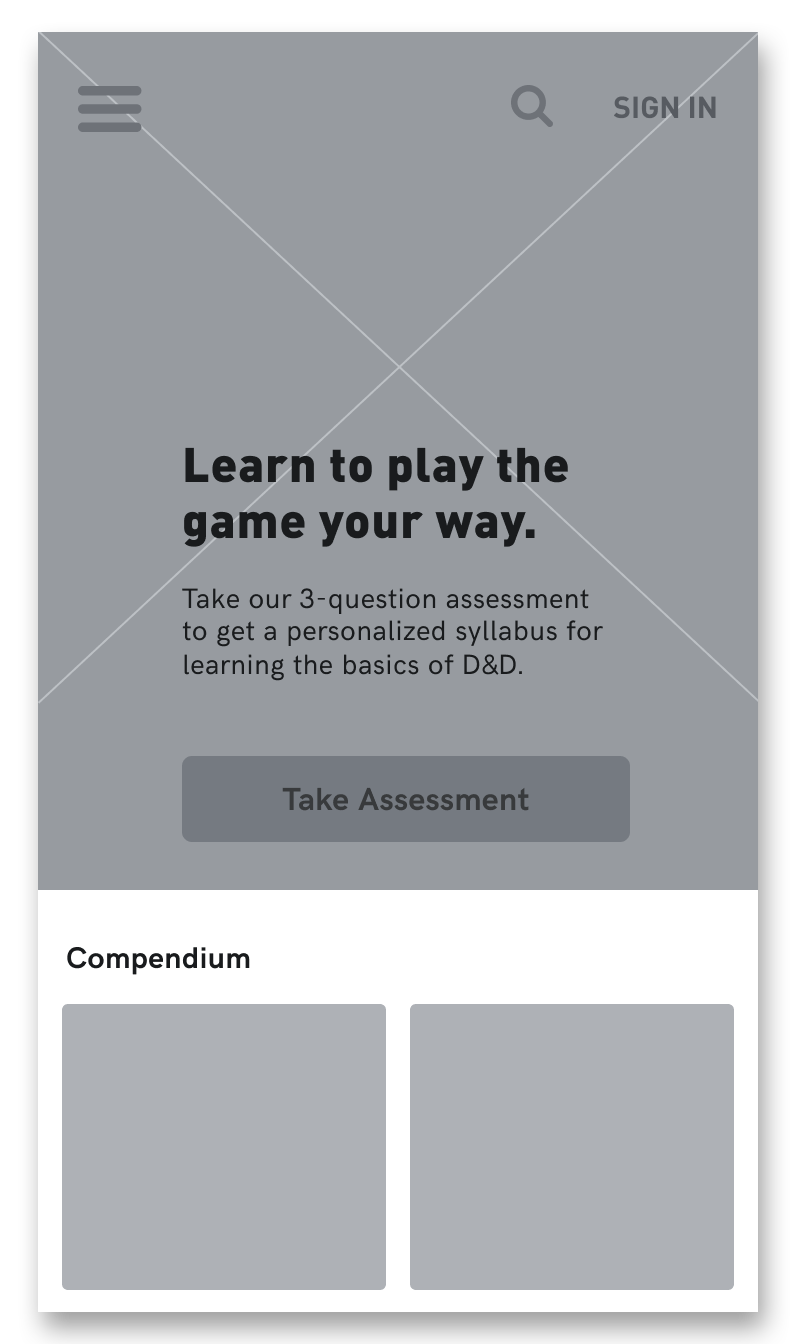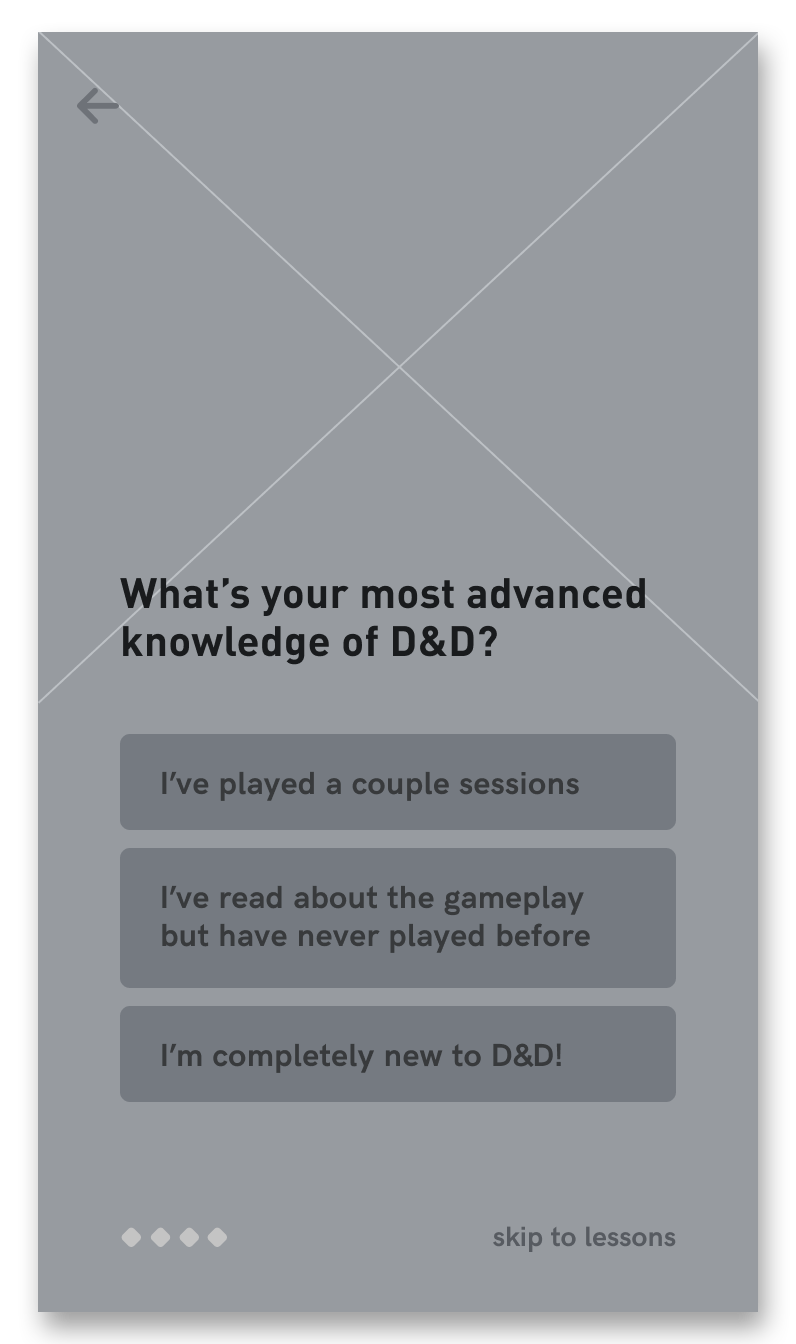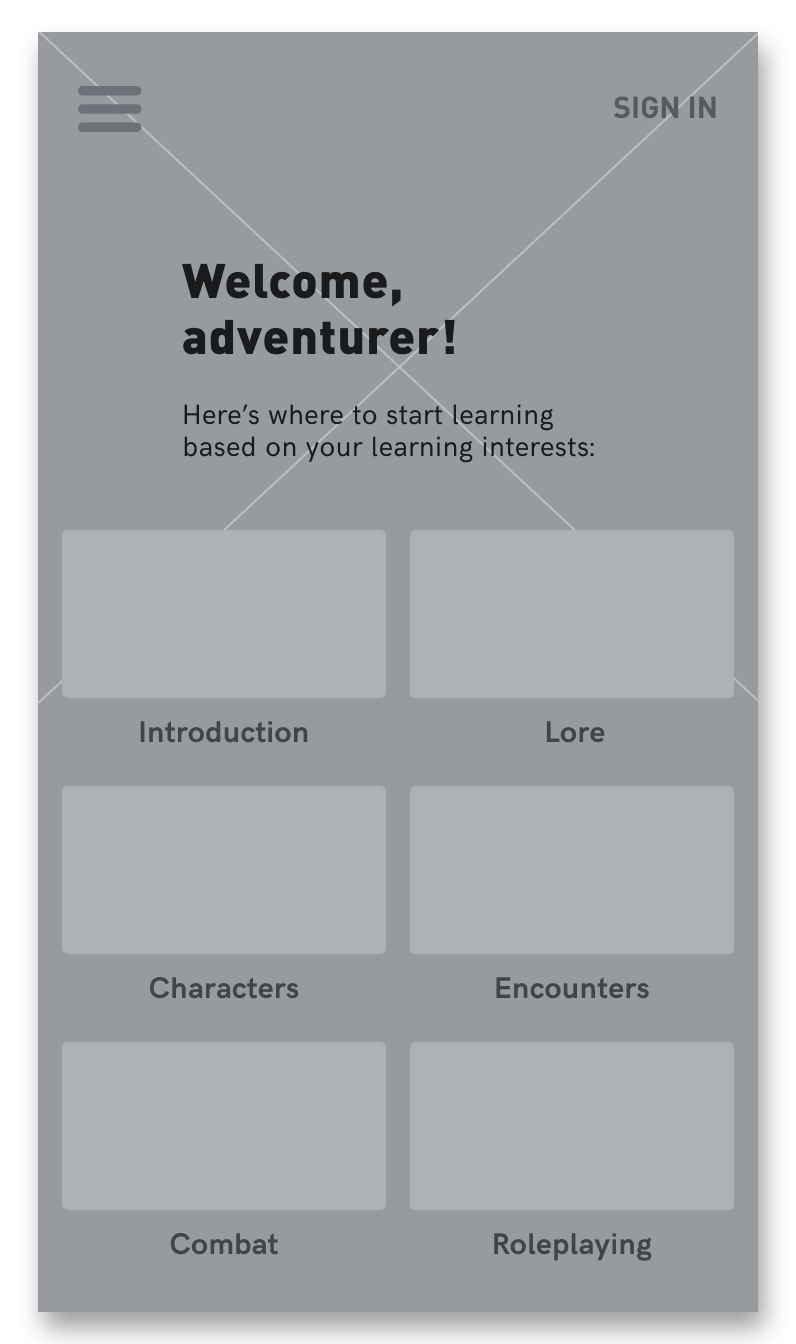 I iterated on each screen to not only improve usability and visual hierarchy, but also until each screen successfully conveyed the "epic fantasy" feeling of D&D that makes the game and franchise exciting.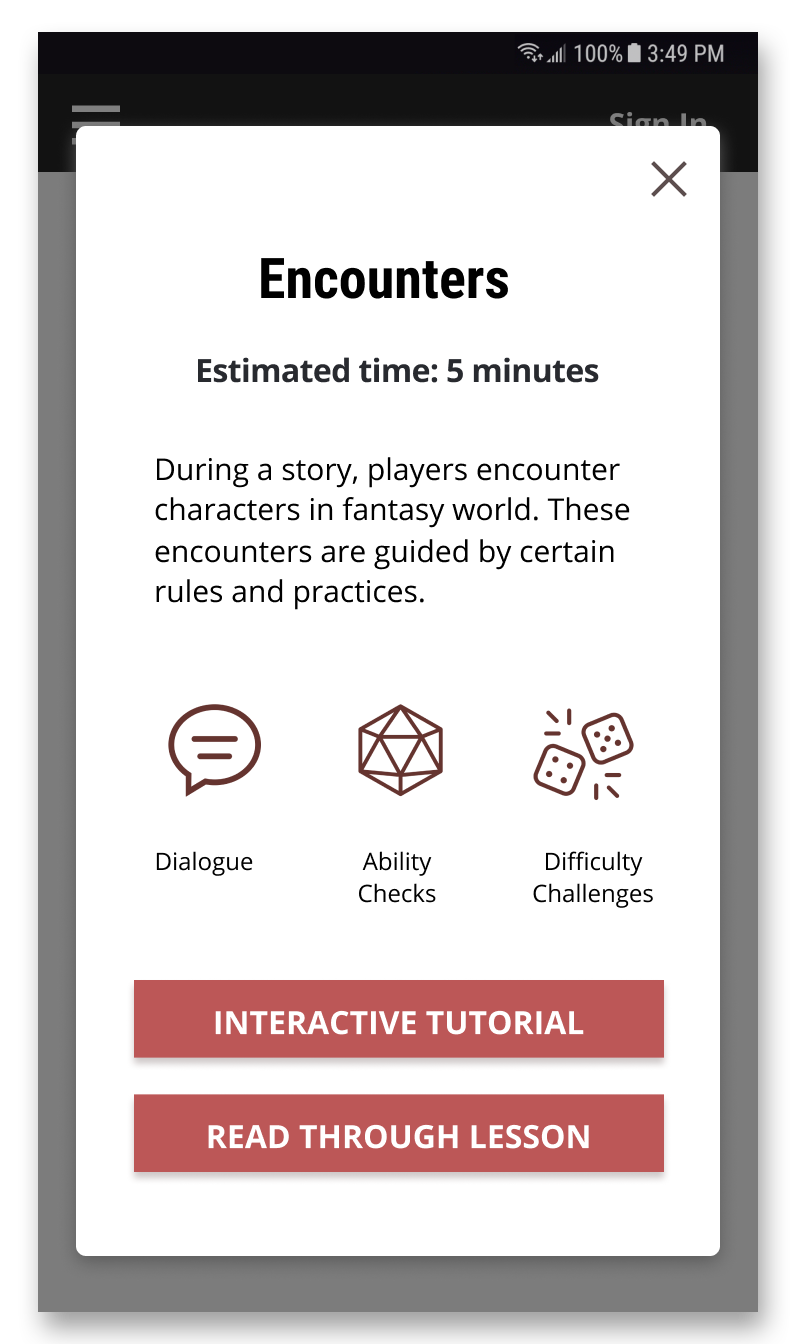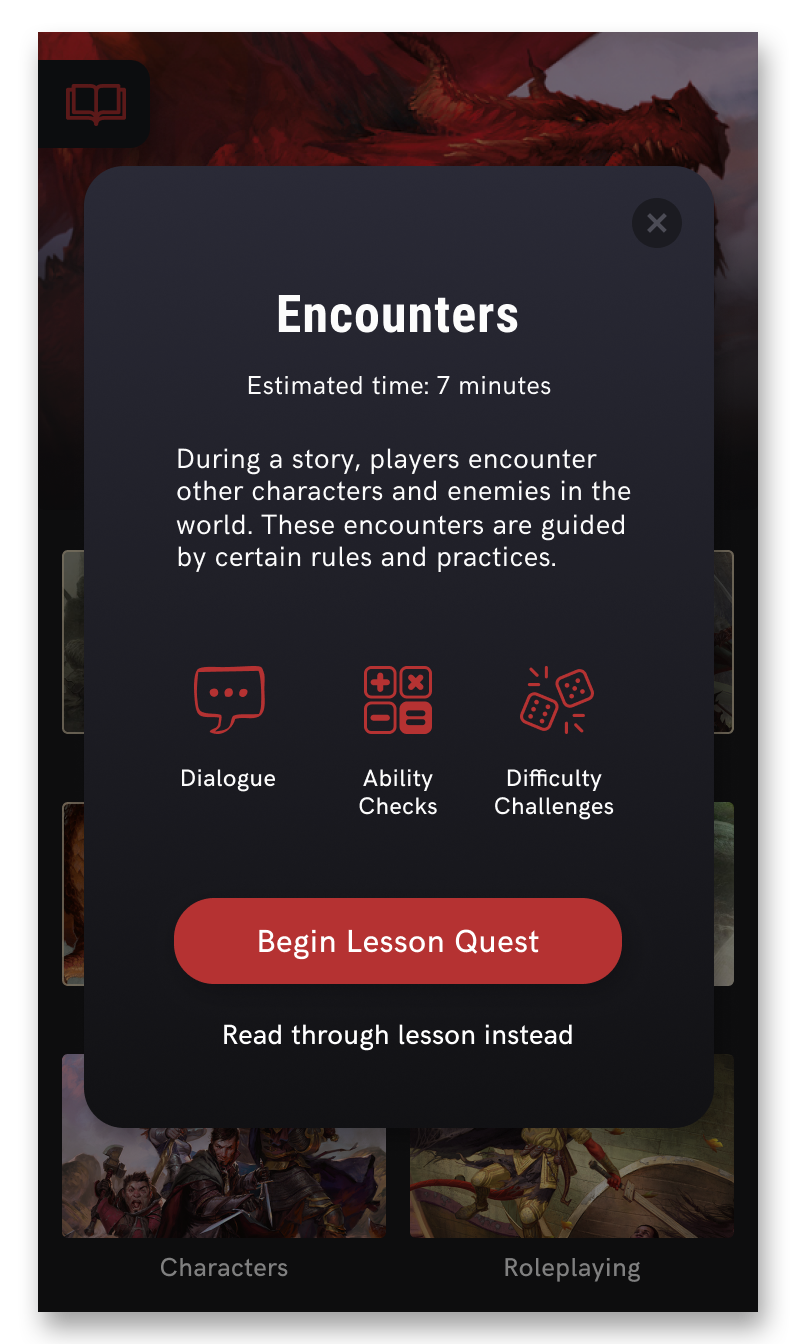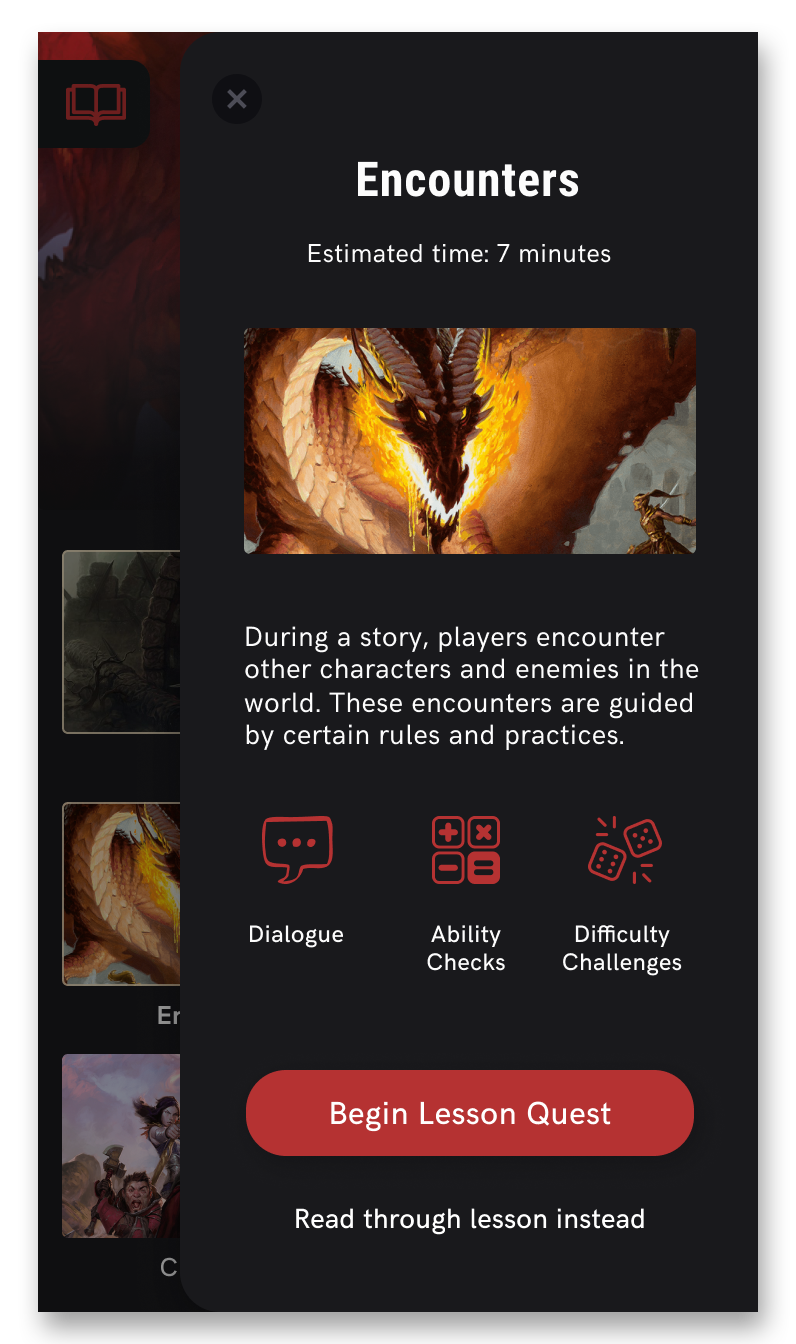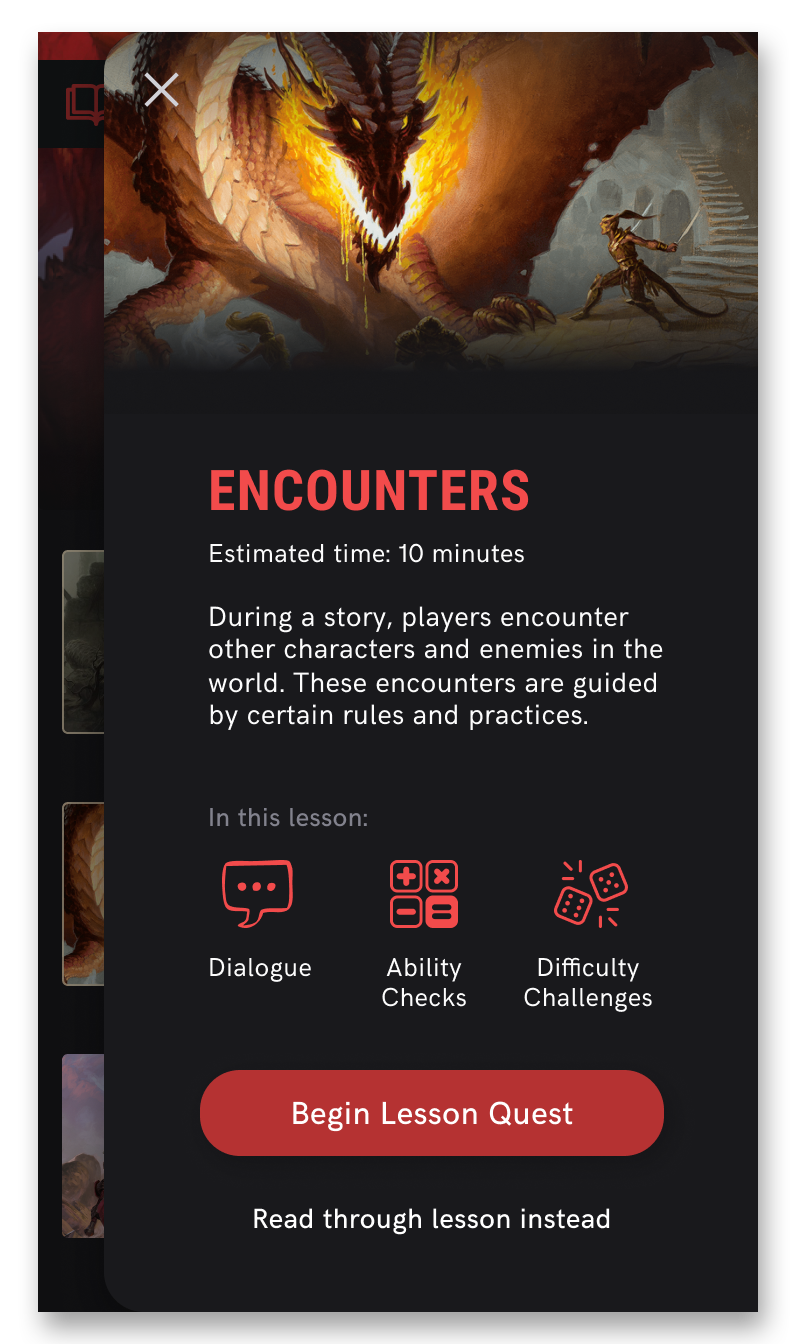 REFLECTION
My team's change in project direction to a mobile learning app extension allowed for more opportunities in enhancing the user's experience learning D&D, and also providing learning flexibility. I was a strong advocate in implementing the narrative-based, immersive scenarios into the lessons because they helped capture D&D's spirit and contained the elements of D&D that draw people's interest to the game.
If I were to take this project further, I would begin exploring ways to make this app more accessible during gameplay beyond the bookmarks feature, so that a D&D player can refer to it quickly and easily if they forget a rule.
Thanks for reading about my project! This project was created in a team of myself, Jessie Li, Emily Hui, Simranjit Bagga, Ali Reza Mogharrab, and Momchil Kutev.
REFERENCES
http://dnd.wizards.com/articles/media-resources/wallpapers
https://www.artstation.com/artwork/84WOO
https://i.pinimg.com/originals/85/9d/02/859d02f641177ef59427715c89af7218.jpg
https://image.flaticon.com/icons/svg/54/54761.svg
http://newdragonrpg.blogspot.com/p/material-para-campanha.html
http://dnd.wizards.com/articles/media-resources/wallpapers
http://www.tokkoro.com/2524838-dungeons--dragons-online---eberron-unlimited.html
https://www.wallpaperup.com/821080/DUNGEONS_DRAGONS_Forgotten_Realms_magic_rpg_action_adventure_puzzle_fantasy_warrior_dragon.html
https://olismithart.artstation.com/projects/anYG9
https://spunaspil.com/category/dd/